Government Pandemic Defense
Monrovia, Liberia
April 17, 2020
African Literacy Campaign Pandemic Response
As much of the U.S. begins to dig out after months of pandemic-inspired "hibernation," many of us resume reach to the wider world. My attention returns to Liberia and Sierra Leone and our firm's support of Applied Scholastics International (APS) and its African Literacy Campaign (ALC). See, My True Pay (January 16, 2020).
We launched ALC's 2020 phase in February only to collide with the "stay in place" directives of nearly every national and state government in the northern hemisphere, including all West African countries. Liberia and Sierra Leone have been particularly sensitive to COVID-19's potential consequences from the havoc Ebola created in that region in 2014-2015.
While Ebola reportedly took the lives of some 4,800 Liberians (out of 11,300 deaths in the region), the current pandemic's public health impact has been relatively light. With a population of some 5,000,000, Liberia reportedly counts 269 documented COVID-19 cases, with 242 recovered and 27 deceased. See, Johns Hopkins Coronavirus Resource Center, nation-by-nation map.
The Liberian government's lock down applied since April 10 to flatten the pandemic's curve so significantly has been well-beyond anything Americans have experienced, including a national militarily enforced curfew, 3 p.m. – 6 a.m., daily. For example, armed soldiers have deployed to shut down open markets, the country's lifeblood.
As here, all Liberian schools have been shut for many weeks. (Ebola shut the schools there for well over a year in 2014-2015.)
If halting COVID-19's progress wasn't enough, the region's seasonal rains blew off a large portion of ALC partner Global Cares Mission Academy's roof in mid-April. (Half of Global Cares 300 students are orphans.)
Ironically, we launched the ALC in June, 2014, the week Ebola came to Monrovia. Then, as now, the campaign stands as a significant player in recovery from the impact of these bone-deep disruptions. Accordingly, we have devoted 2020 ALC donations to:
Repairing and replacing the Global Cares roof; and
Securing and distributing basic sanitation and other supplies for Monrovia-area schools to assist their communities in turn, including Educate West Point (in one of the city's poorest neighborhoods, quarantined en masse by the military in the 2014 Ebola time).
With our donors' continuing help, Applied Scholastics and the ALC are in Liberia and West Africa to stay; now helping to protect student, family and faculty health; hopefully soon to assist  in the meaningful and swift recovery of education region-wide.
All support is welcome through our GoFundMe site: https://www.gofundme.com/f/african-literacy-campaign-2020.
Thank you. So much more to come!
Tim Bowles
May 28, 2020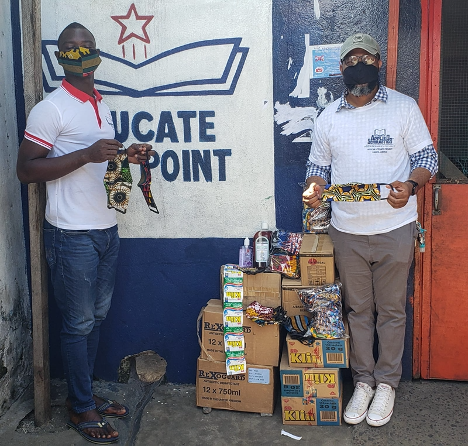 Applied Scholastics Relief
Educate West Point
Monrovia, Liberia
May 20, 2020